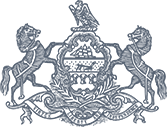 Open a MJ-IOTA Account
Opening a MJ-IOTA Account is a Simple Process
Download and print the Enrollment Form.
Take the Enrollment Form to an Approved Financial Institution and complete it with the bank manager.
Fax the completed Enrollment Form to the IOLTA Board at 717-238-2003.
A judicial official may select any depository institution meeting the regulatory requirements. However, where you bank is extremely important to the IOLTA Board's mission as the interest rate on the account drives the revenue available for IOLTA's mission. Platinum Leader Banks have committed to pay premium yields on IOLTA Accounts. This means more funding for legal aid. The IOLTA Board encourages judicial officials to patronize them.
Tips for Opening a MJ-IOTA Account Successfully
MJ-IOTA Accounts are specialized bank products. Make an appointment with the bank manager to establish your MJ-IOTA Account.
IOLTA's Federal Tax ID number should be associated with the account's earned interest, not the principal balance.
The mailing address on the IOLTA Account should be that of the MDJ court office, not IOLTA's mailing address.
Be sure to fax the completed Enrollment Form to the IOLTA office.
If the bank you have selected is not a Platinum Leader Bank, ask the manager to consider upgrading to Platinum Leader Bank status.
Resources